Meet The Team: Woody Noland
October 20, 2021 by Darby Dame
With over 500 campers and 100+ seasonal staff, our full-time camp staff have their hands full! This off-season we are going to introduce you to the folks who help set the tone for camp, create the community, lead by example and so much more all year round. We know a HUGE part of what makes camp special is the people.

Starting off is someone all of our staff and campers know well. His presence, voice, and patience set the tone for camp each session. From quick one-liners to handy words of advice, a chat with Woody Noland is a delight! Without further ado, read on to learn more about Woody.
Position: Associate Director
Years Worked: 15
How did you learn about and starting working at Camp High Rocks?: High Rocks was always a family destination for me growing up. I was lucky enough to come most summers growing up and then return over winter breaks as well. Camp is the best in summer, but not too shabby covered in snow with a sled nearby.
What does your day-to-day role look like in the off-season?: Relaxed! My time is spent talking with families interested in camp, recruiting counselors for the coming summer. Every now and then I get to do some facility projects outside as well.
Favorite camp food?: The impossible question. The responsible part of me wants to say unlimited and varied salads every day. Maybe the homemade tsatziki on equally homemade falafel… But the honest part would have to go with fried chicken sandwich(es) slathered in pesto mayo.
What are you reading or watching right now?: Hmmm, Roald Dahl and Dinosaur Rap, on repeat. When my boys go to bed though, either reading econ/history/international politics or Ted Lasso/Foundation.
Share a useful camp tip or trick: The water at the barn, absolutely the best to drink.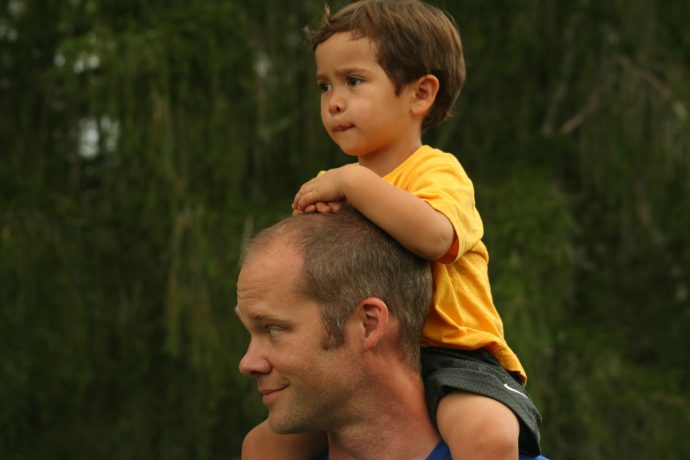 What do you enjoy doing when you are not working?: Cooking (and eating), playing with my kids, going on runs, getting some beach and snowboard time with my wife. The odd bit of quiet time really is not the worst thing either.
Team Barley, Team Tsali, or Team Harvey?: Team Dog.
Why Camp High Rocks?: It is a special place, both physically and due to all of the amazing people that are connected to it. It was always a second home and a happy place for me. Familiar and yet always throws something new and different at you. Anchor points can be beneficial, and this is mine.

What is one thing you are really good at?: Have I mentioned eating..? I tend to be a good listener and am fairly calm when things get exciting. Also still reasonably mean with a canoe paddle in hand.
A perfect camp day would include…?: The aforementioned chicken sandwich of course. I'm split here. I love a cool and breezy day where everyone is jazzed to go big in activities and squeeze every last drop of fun possible from the day. It should include some gaga or four square, and end with fireflies. Conversely, I do love a really kinetic and stormy day every now and again.
And that is a wrap for Woody! Check back in the next few weeks for a feature on your favorite Maintenance Director, Danny Stewart!